*Sometimes, I wonder why I go through the pain of digging things up and translating and reconstructing the contents with my broken English and posting them. Articles from the past only help reinforce the fact that humans never change. Still, in the hopes it might touch a few people, here goes another one.
Anyone who has lived in Korea in the past couple years might remember the movie 'The Crucible(도가니)'. Based on Kong Ji Young's novel of the same title, it tells us the story of inhuman sexual and physical abuse inside a welfare center for deaf students by its faculty members. This was based on actual events that happened in Gwangju's Inhwa School(인화학교) in the early 2000's for a duration of five years. The public outrage was great when it came into the public spotlight. The government made a fuss about making laws to prevent such abuse. And yet, when we look back, a worse incident had happened in Busan in 1987 and nothing much has changed. No more than a tree swaying through a gust of wind.
When Cheon Du Hwan was president, he laid an order that all the 'beggars, vagabonds, and homeless' were to be round up and put in a single facility. Here Busan City Office, the Department of Health and Welfare, and police all supported this facility that became Hyeongjae Welfare Center. The director boasted that he put up all his money into the facility. As it was privately owned, though it received aid in the form of 2,000,000,000(20억) a year from the government, all the facilities and its inmates became the director's private property. Because welfare facilities received financial aid according to the number of people it accomodated, the center's first priority was to increase its numbers. They incarcerated normal people and those who left or died were kept on record. Of the 3,500 inmates, only 300~400 were truly homeless or disabled. The rest were people with normal lives. Someone who was drunk on the street, a couple who had a fight, or a person who fell asleep a minute at a bus stop. These were the people who were brought in due to a neighbor's report, through police custody, or another public servant. They didn't care if you were an emmigrant from the States who lost his wallet, or a child lost on the streets. Age, gender, nationality held no boundaries. As soon as you were admitted, you became without family or friends.
According to survivor Kim Young Wuk(김영욱), his transformation from a gentleman into a homeless man went as thus: As soon as he arrived at the welfare center, a registration card was filled. All of his possessions were taken from him. Because they had to take a picture of him as a homeless man, they dragged him around and beat him. By the time the picture was taken, he was half-conscious and his eyes were blank. Kim said he protested, asking them why they dragged an innocent man in and telling them he was a disabled veteran and a person of national merit. That he had his pension papers to prove it. A normal office worker, he was brought in because he dozed in front of the station. He watched a man put up a fight and get beaten with a piece of lumber till he lost his mind. The man was dragged downstairs, never to be seen again.
Han Jong Seon is another victim and survivor of Hyeongjae Welfare Center. He was nine years old when he was dragged in with his father who had fallen asleep drunk and older sister(12) in 1984. He got out in 1987 when the center was shut down. His father and sister had to live in psychiatric hospitals for the rest of their lives. His book <The Child Who Survived(살아남은 아이)> narrates the horrors that he lived and witnessed.
In 1987, the atrocities that were being held in the Hyeongjae Welfare Center(형제복지관) in Busan came to surface. At the time, it was the nation's largest welfare center with the capacity to hold 3500 homeless, including children. It was a concentration camp. There they made the inmates perform forced labor. Those who protested were killed and buried secretly. According to public records, 531 died in 12 years. Some of the corpses were sold to medical schools as cadavers for 3,000,000 to 5,000,000 won each. Even when an inmate had been beaten to death, they paid off doctors to falsify death certificates. There were witness reports of sexual assaults as well. It was said when the police asked people "Do you want to go to the Samcheong Recruit Training Center(삼청교육대-infamous for their inhumane treatment of its inmates) or the Hyeongjae Welfare Center?" they would choose Samcheong RTC without hesitation.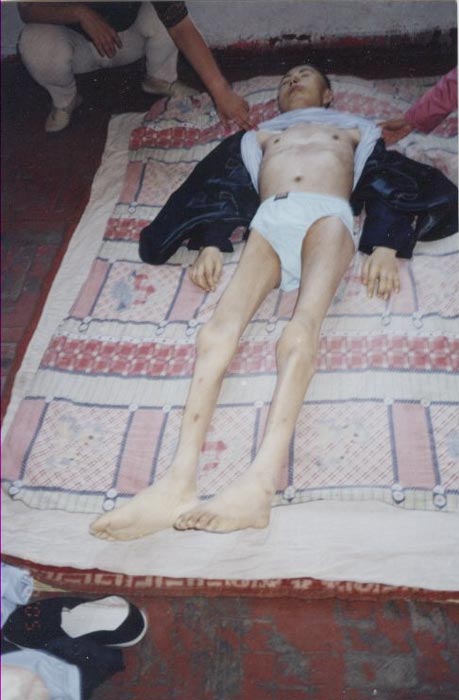 The hellish truth only came out in March 22nd, 1987, when a child was beaten to death and 35 escaped. A government-appointed trustee came in and shut the welfare center down. When the center was closed, a problem occured. It had been holding 2900 homeless in its facilities. With nowhere to go, they wandered the streets. The number of homeless dying of malnutrition and disease doubled. And the government only used it as a reason to treat them as potential criminals to hush the scandal.
<These are pictures drawn by 12 year old Han Jong Seong of what it was like inside the center>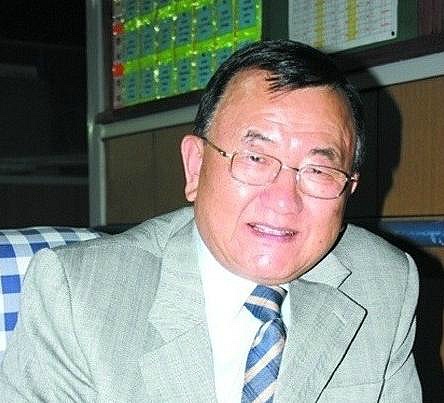 The director and main perpetrator of the crimes, Park In Geun(박인근) was a person who had been decorated by the government. When the scandal was released, the Department of Health and Welfare and the Busan City Office became busy covering him up. It's only logic to assume that every single government employee was in the man's pocket. How else could he have been supplied with all those inmates in the center? While he was in custody, he brazenly payed off a police officer and went home to bathe in full view of the public. The prosecutor demanded a 15 year sentence. The judge gave him 2 and a half years. After he served his time, he proclaimed he was innocent. That he "operated the center conscientiously and with devotion" and that what happened was due to jealous people and he suffered under false charges. He then went back to the welfare business. He became an elder at Shiloam church(실로암 교회) and the chairman of many welfare facilities for the disabled. He is the head of the board of Shinyoung Middle and High School(신영중고등학교) an alternative school for 'degenerate teenagers'. An apartment complex was erected where Hyeongjae Welfare Center once stood. Park's welfare foundation grew to own Sasang Sea Hot Springs(사상해수온천) and a sauna called Saha's Big World Leports(사하의 빅월드 레포츠). There were problems, such as when a physically disabled patiend died due to a landslide in 2002. Still Park In Geun is treated as a big shot in social welfare circles. Oh, and the judge who gave the Park 2 and a half years for the atrocities he committed? It's Kim Yong Jun(김용준) our fucking prime minister-to-be. God fucking save our nation.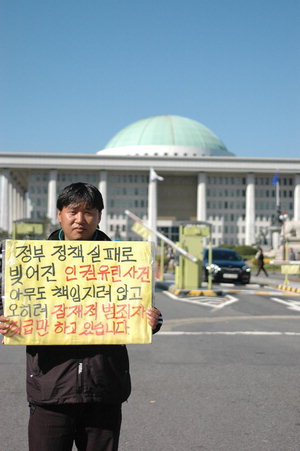 <Survivor Han Jong Seon protests in front of the National Assembly Building>
"The government and the news media turned their backs when a human being was scarred for life and a family was torn apart and shoved into despair. With Korea's social welfare as an excuse, they just used my family and others like ours as an experimental guinea pig. Even with the numbers of victims produced, even now, in 2012, the reality of our nation's welfare system is stained with scandals and incidents. Let's say we forget all that was done, both the good and the bad. Then can we lead a good life in the future with the wrongs of the past on our backs? Forget everything? How can a bright future exist for us when there is no effort to learn and change from the past in the future? Some of those who are reading this might think 'It seems nowadays, any dog or cow is writing books(이제 개나 소나 다 글을 쓰는구먼).' That is true. Once I was a dog and a cow."
<page 126 from 'The Child Who Survived(살아남은 아이).
*The article linked was my first source, but it is but a very sanitized version from Choongang Ilbo. I only used to look for the most generalized facts. However, I linked it to the article so that people could see the difference in my post and that of Choongang Ilbo. I acknowledge it's an editorial piece with limited column space. Still, it neither had any pictures nor the names of the director or any affiliated organizations of this hell. Nor did it reveal that the inmates were children, not only adults. They used terms such as 'from drunks to the sober' and 'caused trouble in the street' to paint the victims as makers of their own suffering. Also the ending is messed up. A big fuck you.